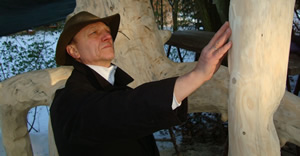 Werner Rosenschild is a Berlin artist whose wood sculptures are internationally acknowledged. His timeless, one-of-a-kind artworks are an eye-catcher in any stylish ambience.
Every sculpture is unique in its form and composition. The often unusual and bizarre nature of the raw material is being artfully sculpted without it losing its initial character. The owners of these pieces of art find particular delight in the many possibilities of interpretation of the sculptures. Through shifting perspective, clients often find faces, animals or other known forms in the artworks.
Rosenschild refines every sculpture through a manifold polishing process, which excludes the use of chemicals. The artworks are being oiled or waxed through a self-developed waxing technique. These extensive procedures guarantee a smooth, velveteen surface and a warm touch.
The artist uses exclusively domestic woods such as oak or black locust for his sculptures. Premium slate stone slabs ensure a perfect and stabile setting. For outdoor use, every piece can be additionally treated with a special UV-Protector technology, which shields the wood from weather exposure.
Would you like to learn more?
We look forward to your e-mail at info@rosenschild.com.